Ph: +61 2 9870-8508 Mobile: 0402 304 444 Email: Info @ Syntology.com
Syntology Pty Limited

is a team of experienced professionals dedicated to excellence in electronic product and system development for client companies. Syntology makes outsourcing the answer by providing the skills, facilities and processes needed to succeed.

Projects are undertaken on a contract basis, beginning with a clear understanding of customer requirements and can include all phases from concept to volume manufacture. Syntology also provides specialist engineering consultancy services needed to boost your in-house capability.

Syntology include proven core technologies, Smart Card Interface integrated circuits and EMC/Safety compliance publications to assist designers and manufacturers.

Syntology provides the following products and services:
Product and System Development

Syntology provides project management, hardware and software development services. Syntology undertakes projects ranging from the development of complex systems through to simple consumer products. Projects are undertaken on a contract basis, from concept through to volume manufacture.

Supplementary R&D Services

Syntology provides engineering services to companies seeking to supplement or expand their in-house R&D capability. Syntology can act as a "portable R&D" facility, establishing, supplementing or expanding your company's R&D capability.

Consulting

Syntology provides specialist-engineering services in the area of RF design, EMC and safety design, testing and certification through accredited laboratories.

Products and Technologies

Syntology has an extensive portfolio of products and core technologies available for purchase or licensing.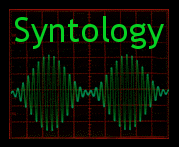 Optimally Resonant Technology